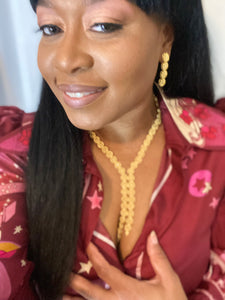 Product Description: Circle pattern drop necklace set (includes matching earrings). The elegant simplicity of this piece makes it easy to pair with blazers, blouses with a collar, tube tops, deep vee neck tshirts and much more.
Color: Gold
Material: 18k Gold Plated Brass 
Care instructions:
Keep jewelry away from direct heat, water, perfumes, deodorants and other strong chemicals as they may react with the metal or plating. We recommend to gently wipe all jewelry with a soft cloth after each use, and to store item in jewelry box/bag to prolong the life of the product. Metal material can be soft or malleable. Please be mindful of any metal allergies.