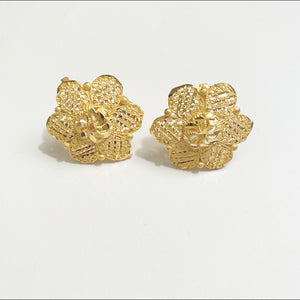 Product Description: Large round studs reminiscent of a petunia flower. Perfect for everyday wear and workplace friendly.
Color: Gold
Material: Gold plated Brass & Copper
Dimensions: 1 in around
Shipping Weight: .8 oz
Care instructions:
Keep jewelry away from direct heat, water, perfumes, deodorants and other strong chemicals as they may react with the metal or plating. Perspiration (sweat) does not affect gold plating. We recommend to gently wipe all jewelry with a soft cloth after each use, and to store item in jewelry box/bag to prolong the life of the product. Metal/Material may be soft malleable. If cared for properly, gold plated items will last a very long time. - Please also be mindful of any metal allergies. Earring backs on some of the Elite Collection gold earrings have a red cushion inside to fit the posts. Please be careful when inserting the earring into the back post.